Due to the current situation with the Coronavirus, all public services, clubs and groups at this church will be on hiatus until the situation is resolved. More information will be published here in due course and updates can also be found on our social media channels.Thank you for your patience.
SUNDAY
Morning Worship Service
+ Sunday School & Creche
10:30am
Prayer & worship
(1st Sunday of the month)
5:30pm – 6:30pm
Gospel Coffee Bar
(Last Sunday of the month)
5:30pm – 6:30pm
WEDNESDAY
Bible study
Bible study & prayer
10:30am
THURSDAY
Coffee With Friends
10:00am – 12:00pm
Adults Colouring Club
10:30am – 12:00pm
Worship Team Practice
7:30pm – 9:00pm
FRIDAY
Toddler Group
(currently not running)
JAM Kids Club
6pm – 7:15pm (Term time only)
Limitless Bh1 Youth
7:30pm – 9:00pm
SATURDAY
Ladies Aspire
Men's Minsitry
Specific dates. Watch out for our next event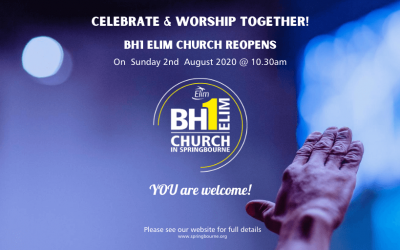 Covid-19 Re-Opening InformationRe-Opening Sunday 2nd August 2020We are aware that as we reopen for public worship, the Covid 19 pandemic is still upon us and remains a very real threat. As such, we will be adhering to national guidelines from Elim HQ and from the...
read more
HALL HIRE
We have many regular events running in the church, both those run by us and several which other organisations come in to run.
When the building (or parts of it) are not in use, the Community Hall and lounge are available for rent at what we think are very reasonable prices. Being a church there are certain restrictions we place on these events (for example alchohol is not permitted), but we hope nothing too restrictive. Please note that we do not currently hire the facilities for birthday parties.
If you would like to find out more, or make a booking, please call the office on 01202 303036.