Due to the current situation with the Coronavirus, all public services, clubs and groups at this church will be on hiatus until the situation is resolved. More information will be published here in due course and updates can also be found on our social media channels.Thank you for your patience.
We have a number of Recovery Support Groups running throughout the week. If you are interested in attending one of these, please email the church office and our Recovery worker, Sam, will be in touch.
SUNDAY
Morning Worship Service
10:30am (in person)
Communion & Fellowship
6:00pm (Zoom)
MONDAY
Youth Bible Study
7:30pm (Zoom)
WEDNESDAY
Bible study
Bible study & prayer
7:30pm (Zoom)
FRIDAY
Limitless Youth
8pm-9pm (Zoom)
Kids Church Easter Colouring CompetitionHere are our entries...Everyone's a winner - we couldn't decide! Prizes will be delivered to your door and well done to everyone who took part. God Loves You!For God so loved the world that He gave his one and only son so that...
read more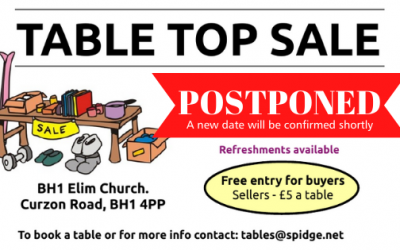 Table Top SaleApologies but our Table Top sale on Saturday 21st March has been postponed due to the current health issues. We will provide new details later on in the year. For more information or to book a table, contact Peter at [email protected] God Loves You!For...
read more
HALL HIRE
We have many regular events running in the church, both those run by us and several which other organisations come in to run.
When the building (or parts of it) are not in use, the Community Hall and lounge are available for rent at what we think are very reasonable prices. Being a church there are certain restrictions we place on these events (for example alchohol is not permitted), but we hope nothing too restrictive. Please note that we do not currently hire the facilities for birthday parties.
If you would like to find out more, or make a booking, please call the office on 01202 303036.